The 2021-22 yearbook is now on sale for the lowest price of the year which is $62 for a 164 page all color book. This price will be in effect until October 29th. If you purchase a personalized book by September 24th, you may choose up to 4 free icons. Payments can be broken up into three payments. Order online at
www.jostens.com
or stop by room 207 for an order form.




Jostens has re-opened senior recognition ads for Clearfield Junior Senior High School starting today Tuesday May 25th through May 30th. jostensadservice.com Please contact
lwingate@clearfield.org
if you have any questions or problems.

For the senior recognition ads, Jostens is working on extending the deadline for the ad to May 31st. If you would like to email Linda Wingate with your picture(s), size of ad (1/8,1/4,1/2 or full page), and message to your student, we can design your recognition ad, send it back for approval, and you can send the payment to school via mail or your student.

Attention Clearfield parents of 2021 seniors The deadline for recognition ads has been extended until May 28th in order to accommodate parents who need a little more time to complete their project. Please email
lwingate@clearfield.org
if you have any questions. The site to use is jostensadservice.com

The Jr./Sr. High School will be doing lockdown drills this week with both A and B students.

The deadline for freshman to sign up for the associate degree through Mount Aloysius College has been extended until January 8. Any freshman student who would like to take advantage of this opportunity should see Dr. Spaid for an application. Parents are welcome to call or email Dr. Spaid at 765-5511 ext 2520 or email at
sspaid@clearfield.org
.

Jr./Sr. High School Picture Day Make-Up Dates: Tuesday, November 3 - Wednesday, November 4 Picture Day ID: EVT87XC46 To order pictures online:
https://lifetouch.com/
>Order Your School Pictures>Type in Picture Day ID

Clearfield Junior and Senior High School picture make-up days are November 3rd and 4th. Cyber students may come either day between 10 am and 2 pm.

Reminder to all CCCTC students: The CCCTC is not in session on October 12th.


If you would like to receive Remind announcements from the Jr./Sr. High School Office and Athletics please use the information below:
https://www.remind.com/join/cajhs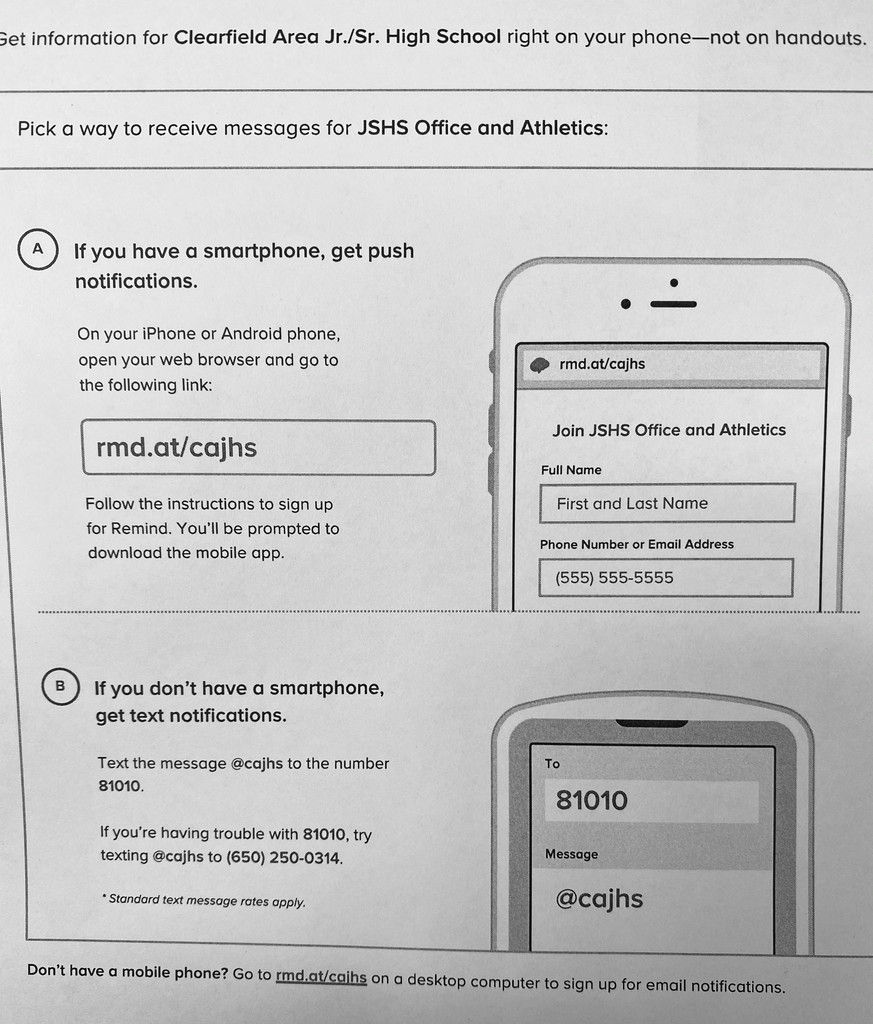 The PSAT will be offered to Juniors on October 14, 2020. The PSAT is a PRACTICE SAT. If your student is planning to go to college, they should take the PSAT. If your student is on a virtual day on the 14th, they may report to the high school to take the PSAT. Please contact Dr. Susan Spaid to enroll your student for the test.

The Junior/ Senior High School is planning to hold lockdown drills on Thursday, October 8th ( Group A) and Frday, October 9th ( Group B).


Seniors Only- The SAT's will be held on September 23 in the AM at the Jr./Sr. High School. Students can come in to take the test even if they are in the A group since that is a B day. They are free to go home after the test. You can sign up through the English Teams. The cost of the test is $52, you must bring a check payable to the school district for the $52. If you need financial assistance or have questions, please contact Dr. Spaid.

Jr./Sr. High School picture days will be September 22nd and 23rd. If you are interested in looking at the picture package options and pricing before hand please go to:
www.mylifetouch.com
and use the picture day ID: EVTRGQPW7