The Jr./Sr. High School will be doing lockdown drills this week with both A and B students.

The deadline for freshman to sign up for the associate degree through Mount Aloysius College has been extended until January 8. Any freshman student who would like to take advantage of this opportunity should see Dr. Spaid for an application. Parents are welcome to call or email Dr. Spaid at 765-5511 ext 2520 or email at
sspaid@clearfield.org
.

Jr./Sr. High School Picture Day Make-Up Dates: Tuesday, November 3 - Wednesday, November 4 Picture Day ID: EVT87XC46 To order pictures online:
https://lifetouch.com/
>Order Your School Pictures>Type in Picture Day ID

Clearfield Junior and Senior High School picture make-up days are November 3rd and 4th. Cyber students may come either day between 10 am and 2 pm.

Reminder to all CCCTC students: The CCCTC is not in session on October 12th.


If you would like to receive Remind announcements from the Jr./Sr. High School Office and Athletics please use the information below:
https://www.remind.com/join/cajhs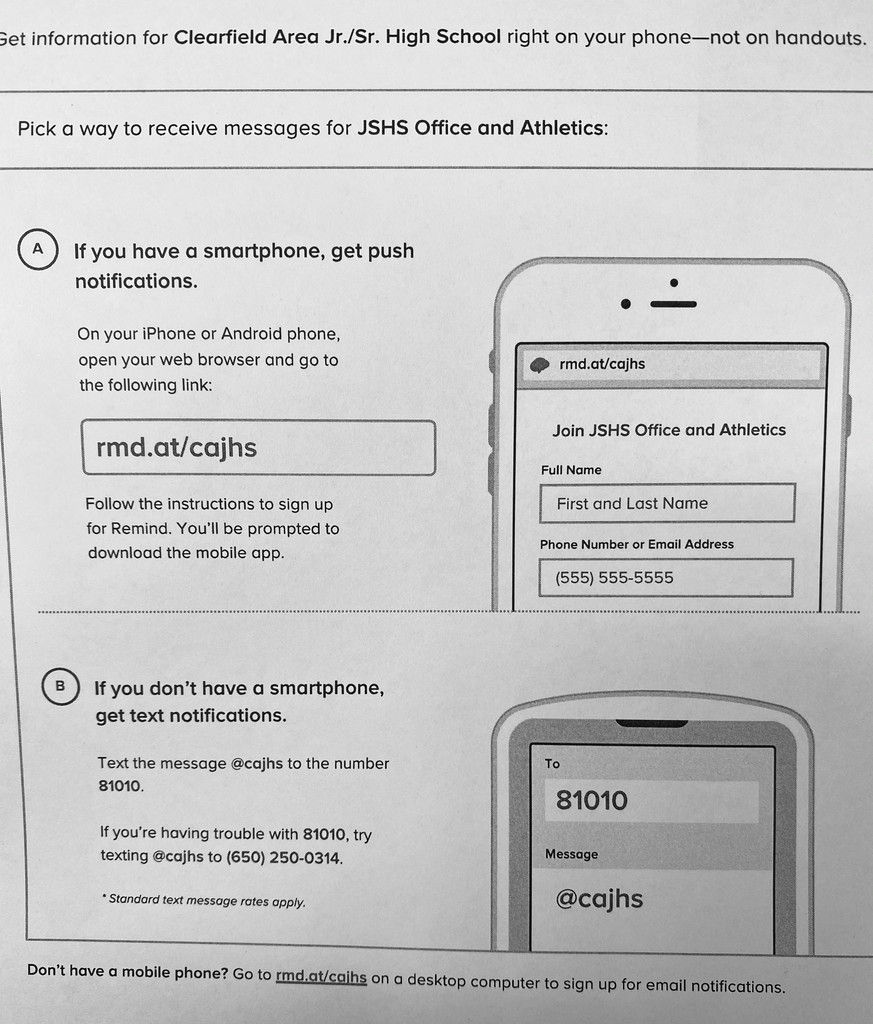 The PSAT will be offered to Juniors on October 14, 2020. The PSAT is a PRACTICE SAT. If your student is planning to go to college, they should take the PSAT. If your student is on a virtual day on the 14th, they may report to the high school to take the PSAT. Please contact Dr. Susan Spaid to enroll your student for the test.

The Junior/ Senior High School is planning to hold lockdown drills on Thursday, October 8th ( Group A) and Frday, October 9th ( Group B).


Seniors Only- The SAT's will be held on September 23 in the AM at the Jr./Sr. High School. Students can come in to take the test even if they are in the A group since that is a B day. They are free to go home after the test. You can sign up through the English Teams. The cost of the test is $52, you must bring a check payable to the school district for the $52. If you need financial assistance or have questions, please contact Dr. Spaid.

Jr./Sr. High School picture days will be September 22nd and 23rd. If you are interested in looking at the picture package options and pricing before hand please go to:
www.mylifetouch.com
and use the picture day ID: EVTRGQPW7



Dual Enrollment Deadlines: Mount Aloysius – September 30, 2020 PA Highlands – October 8, 2020 Pitt Bradford – October 30, 2020 Please contact Dr. Spaid with any questions. For links to register for dual enrolled courses, please go to menu> CAJSHS Guidance>Dual Enrollment

The Junior PSAT-NMSQ will be held Wednesday October 14th. The Sophomore PSAT will be held on Wednesday February 24th. Students will be taking the test during the school day. Students will be able to sign up for the test in their English classes.

Seniors who missed having their picture taken by Happy Events this summer will have the opportunity to do so next Wednesday September 9th for the B Group and September 10th for the A group during the school day. Students should receive an approximate time from their English teachers. Clearfield Cyber seniors will receive an email.