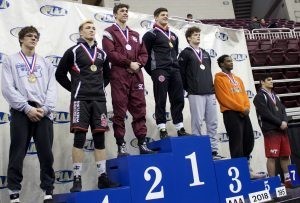 State Champion
Kayla Caragein
Tuesday, March 13, 2018
Our 41st State Champion won by a first period fall!
With Saturday night's championship complete, Luke McGonigal finished his career with a 135-21 record, placing him second in Clearfield's all time win list behind Matthew Kyler (136-13) and tied with Sean Owen (135-27). He bested Thomas Barger (134-31), and is also the 18th winningest wrestler in District 9 history.
Congratulations Luke!