EDIT MAIN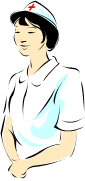 Welcome to the Health Center:
Please call us if you have any questions or would like to update us on any new health problems/conditions that your child has.
Meet your child's nurses:
Mrs. Sattesahn, RN, BSN, CSN School Nurse
Mrs. Johns, LPN
Mrs. Schall, LPN
How you can reach us:
During the Coronavirus shutdown of schools, you can reach me by emailing me at ssattesahn@clearfield.org or calling me at the number listed below (leave a message how I can reach you). My office hours, working from home, are 9:00am - 11:00am, Monday - Friday, but I'll try to get back to you as soon as possible. If you have copies of immunizations or important health information to provide, please email it to me if possible, if not, fax to the school fax# listed below.
CAE Phone # 814-765-5511 Ext. 1601 (leave message)
ssattesahn@clearfield.org
CAE Fax # 814-762-8037